Sometimes our brains need a break from making up what books look like in our minds. It's when the books we love turn into movies or TV series that we can get both literature and a rest!
We scoured the TV Guide to compile this incomplete list of books that have been made into TV series to binge and where to watch them. Enjoy!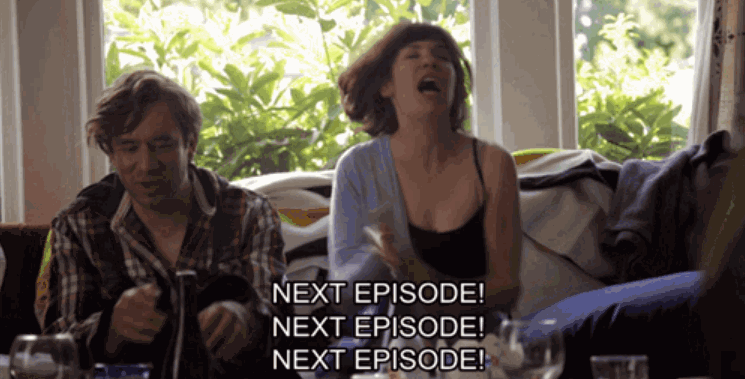 The Handmaid's Tale
The Handmaid's Tale is a novel of such power that the reader will be unable to forget its images and its forecast. Set in the near future, it describes life in what was once the United States and is now called the Republic of Gilead, a monotheocracy that has reacted to social unrest and a sharply declining birthrate by reverting to, and going beyond, the repressive intolerance of the original Puritans. The regime takes the Book of Genesis absolutely at its word, with bizarre consequences for the women and men in its population.
The story is told through the eyes of Offred, one of the unfortunate Handmaids under the new social order. In condensed but eloquent prose, by turns cool-eyed, tender, despairing, passionate, and wry, she reveals to us the dark corners behind the establishment's calm facade, as certain tendencies now in existence are carried to their logical conclusions. The Handmaid's Tale is funny, unexpected, horrifying, and altogether convincing. It is at once scathing satire, dire warning, and a tour de force. It is Margaret Atwood at her best.
The Mortal Instruments
When fifteen-year-old Clary Fray heads out to the Pandemonium Club in New York City, she hardly expects to witness a murder — much less a murder committed by three teenagers covered with strange tattoos and brandishing bizarre weapons. Then the body disappears into thin air. It's hard to call the police when the murderers are invisible to everyone else and when there is nothing — not even a smear of blood — to show that a boy has died. Or was he a boy?
Sharp Objects ✂️
Fresh from a brief stay at a psych hospital, reporter Camille Preaker faces a troubling assignment: she must return to her tiny hometown to cover the murders of two preteen girls. For years, Camille has hardly spoken to her neurotic, hypochondriac mother or to the half-sister she barely knows: a beautiful thirteen-year-old with an eerie grip on the town. Now, installed in her old bedroom in her family's Victorian mansion, Camille finds herself identifying with the young victims—a bit too strongly. Dogged by her own demons, she must unravel the psychological puzzle of her own past if she wants to get the story—and survive this homecoming.
You
A terrifying exploration of how vulnerable we all are to stalking and manipulation, debut author Caroline Kepnes delivers a razor-sharp novel for our hyper-connected digital age. You is a compulsively readable page-turner that's being compared to Gone Girl, American Psycho, and Stephen King's Misery.
Big Little Lies
Sometimes it's the little lies that turn out to be the most lethal…
A murder…a tragic accident…or just parents behaving badly?  
What's indisputable is that someone is dead. But who did what?
Big Little Lies follows three women, each at a crossroads.
A Discovery of Witches ‍♀️
Deborah Harkness's sparkling debut, A Discovery of Witches, has brought her into the spotlight and galvanized fans around the world. In this tale of passion and obsession, Diana Bishop, a young scholar and a descendant of witches, discovers a long-lost and enchanted alchemical manuscript, Ashmole 782, deep in Oxford's Bodleian Library. Its reappearance summons a fantastical underworld, which she navigates with her leading man, vampire geneticist Matthew Clairmont.
Harkness has created a universe to rival those of Anne Rice, Diana Gabaldon, and Elizabeth Kostova, and she adds a scholar's depth to this riveting tale of magic and suspense. The story continues in book two, Shadow of Night, and concludes with The Book of Life.
The Vampire Diaries ‍♀️
A deadly love triangle
Elena: beautiful and popular, the girl who can have any guy she wants.
Stefan: brooding and mysterious, desperately trying to resist his desire for Elena . . . for her own good.
Damon: sexy, dangerous, and driven by an urge for revenge against Stefan, the brother who betrayed him.
Elena finds herself drawn to both brothers . . . who will she choose?
Outlander ⏳
One of the top ten best-loved novels in America, as seen on PBS's The Great American Read!
Scottish Highlands, 1945. Claire Randall, a former British combat nurse, is just back from the war and reunited with her husband on a second honeymoon when she walks through a standing stone in one of the ancient circles that dot the British Isles. Suddenly she is a Sassenach—an "outlander"—in a Scotland torn by war and raiding clans in the year of Our Lord . . . 1743.
Claire is catapulted into the intrigues of a world that threatens her life, and may shatter her heart. Marooned amid danger, passion, and violence, Claire learns her only chance of safety lies in Jamie Fraser, a gallant young Scots warrior. What begins in compulsion becomes urgent need, and Claire finds herself torn between two very different men, in two irreconcilable lives.