You know those debates that can ruin friendships? The ones that have the potential to pit people against one another?
Coke vs. Pepsi
Pizza Hut vs. Papa John's
Salty vs. Sweet
Reddi-Whip vs. Cool Whip
We have a new debate in town: WOMANIZER vs. SATISFYER
Since I am such a giver, I took on the enormous burden of being a taste-tester for your benefit. It wasn't easy. I'm sure it wasn't pretty. But my god – it was worth it. Many times over.
Here's how they stack up:
UPDATE
Since the publishing of this Vibrator vs Vibrator Rumble, LELO has released the SONA. Ladies – The SONA will blow your damn mind! We'll be out with details soon, but TRUST US NOW. The SONA will be the new winner of the vibrator showdown!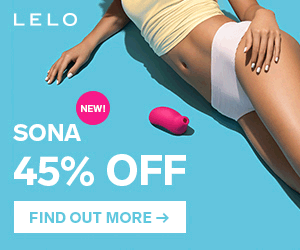 8 intensity settings
Waterproof and completely submersible
Standard U.S. wall charger and USB
Comes with an alternate size replacement head
Quiet once in contact; moderately noisy when not in contact
One charge lasts for over 200 minutes
Easy to clean
11 intensity settings**
Waterproof and completely submersible
USB charging cord with a wonky magnetic charging pad
No replacement heads
Moderately noisy in contact; slightly louder when not in contact
One charge lasts for 30 minutes
Easy to clean
The Down & Dirty Details: Design & Ability
Womanizer Pro40
The Womanizer Pro40 claims to give "orgasms on demand" and they ain't lyin'.
Sweet Baby Jesus, I about hit the ceiling. I had an orgasm within two minutes – A RECORD FOR ME. It's easy to hold and comfortable to operate. When in use, the controls are on the underside (or closest to you) so you control it with your thumb. It's light and slim but a bit slippery at times. There is no contour to it that allows for an easier grip. But for reals y'all… you won't care.
It is the most isolated, direct stimulation that is not straight-on direct to the point of being painful (ladies, you know what I mean).
The head is streamlined and slim. It tapers toward the edge which allows for a nice fit. To use it, you need to spread your labia and position it over the clit – right at the tip so that the hollow portion of the head will encircle your clit. Once positioned, turn it on and BOOM. The combination of suction and vibration at the same time is like nothing I've ever felt before.
You know those jellyfish that dance in the ocean? They have this beautiful wave movement that makes them bounce through the current? That's what I imagine is going on inside of that little pleasure machine.
To describe my first experience… it's like watching those gorgeous race horses break through the gate. "And they're off!" And you will be, too, in a matter of seconds.
Womanizer: The Quick & Dirty
Is it worth $124.00? YES.
Would I buy it again? YES.
Would I gift one to my bestie because I want her world to be forever changed? YES.
Can this be used with a partner? YES.
All in all – the Womanizer Pro40 turned me into a shuddering mess of satisfaction.
Satisfyer Pro 2
The Satisfyer Pro 2 had A LOT to live up to. A LOT.
At first glance, The Satisfyer Pro 2 a little larger and heavier than the Womanizer Pro 40. It has a nice contoured shape that makes it easier to hold, in my opinion, and is a similar design, but it's more bulbous in shape. The same goes for the head. It's not tapered and slim like its competition; it's shaped more like a donut with a smaller opening in the center. For me, this made it more difficult to position between the labia because it was harder to feel where I needed it to go. This may pose a challenge for someone who has a deeply set clit.
When in use, the controls are on the top, so you use your pointer finger to adjust the settings. This made it very easy to change the intensity. Speaking of… the manufacturer says it has 11 intensity settings, however, **I was only able to find 5 settings during use.
After it took a little time to get it in place, I turned it on. That got my attention! I suddenly forgot how long it took to get it positioned properly. It feels similar to its competitor, but there is something a little different. To me, this felt a little more thumpy. You know those drums we had as kids that we would bang with the drumsticks with the little round ball on the end? If you put your hand on the underside of the drum, that's similar to what the vibration feels like. It's the same sort of bizarre suction and vibration as the Womanizer, but the Satisfyer is slightly more flicky (that's not a word, I know). I felt it more directly, which wasn't necessarily a good or bad thing – it was just different. Though I could see how it would become painful if used for too long. Because holy intense!
Satisfyer: The Quick & Dirty
Is it worth $47.25? YES.
Would I buy it again? NO.
Would I gift one to my bestie? YES.
Can it be used with a partner? YES.
All in all – the Satisfyer Pro 2 is satisfying and given its price, could be a nice alternative.
To sum up, I highly recommend the Womanizer Pro 40. The Satisfyer Pro 2 is a close alternative, but I would pick up the Womanizer over the Satisfyer every single time.
About Dear Mistress
Do you have a question for our resident Dear Mistress?
She's experienced in all things BDSM, power exchange, and general knowledge of anything outside of traditional vanilla relationships. With over 25 years in the lifestyle behind her, she continues to live what she preaches and she's sharing what she knows with us.
Nothing is off limits. NOTHING. Too embarrassed to ask a friend or afraid your search history will be discovered? Ask Dear Mistress!
Authors: Are you writing a book with BDSM? Ask the Mistress! Just make sure you include your name and email address in the question submission box, and she'll email you personally.
Check back every #BDSMFriday – or whenever it pleases her – for the answers to your questions.
Want to know more from the Lady in Charge? Visit Dear Mistress's earlier contributions.[